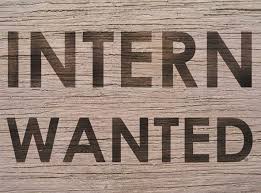 Have you considered the benefits of hiring an Intern?  Real-world experience for a student is invaluable to their future—and incredibly beneficial to your company!  An internship can be part-time or full-time, long- or short-term, and at any time during the year.  Many employers think that internships are primarily beneficial to students. However, the benefits to your company are equally important:
Interns bring in new perspectives on organizational issues: Interns are not stuck in the "This is the way we've always done it" mentality. They can bring fresh, new ideas to your company. Interns are good at questioning processes and can often see a different way of doing things that an existing manager might not.
Young professionals are familiar with new technology: Social media, computer programs, smart phones, and iPads; new technology is a piece of cake for young professionals. Even if you are a young entrepreneur, you can always use a hand from a fellow Gen Y tech-savvy professional who is up to date on the newest tech trends.
An Internship allows a trial period that could lead to something more: Your company gets the opportunity to screen and work with potential entry-level employees prior to making a full-time commitment. Moreover, if the Intern becomes part of your team they have already screened your company and received on-the-job training, reducing your training outlay and risk of turnover.
Interns can help you meet important project or task deadlines: There are always projects or tasks that you need help with or are struggling to complete. Utilizing an Intern offers you an eager helper to meet your most pressing deadlines.
Interns are productive, courteous and trying to make an impression: Your company can capitalize on the convenience and flexibility of hiring additional staff during peak seasons, without the issues that often come along with short-term hiring.
Your company can gain brand advocates and free advertising: The best marketing tool is social media. You can expand your company's online presence in an organic way as the Intern posts online about their favorable experience with your company.
Hiring an Intern can develop your existing team: Junior-level managers within your organization can gain supervisory experience by working with Interns. By screening Interns, your company can grow its pool of qualified candidates for future recruiting needs.
Hiring an Intern is a great opportunity for your team, and for the future graduate! Aclivity has teamed up Colorado Universities to identify and recruit developing talent in the Accounting and Finance fields. We would be happy to leverage our connections to help you find the right Intern!