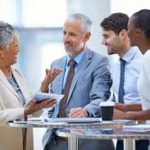 Roberta Gamza, Career Ink (www.careerink.com) | © 2018
If you're an experienced professional above 50, you've likely had a few concerns about age discrimination in the workplace. Going out into the job market at any point in your career increases anxiety levels and adding age discrimination just makes the task even more daunting.
Age discrimination is illegal, but we all know it happens, so how can you counter it and land an interview where you can show them what you can do?
It starts with a powerful, compelling resume that gets you the interview. It is imperative that your resume is targeted to the job and the company – the content must be meaningful and relevant to the employer. It must demonstrate your knowledge and skills. Pack your resume with keywords and display accomplishments that are powerful, quantified, and state the benefit the company derived.
Don't go back to the beginning of time with your resume, 10-15 years should do it. It's not a history of your career, but rather a marketing brochure demonstrating the value you were to previous employers while predicting your future value to employers. An earlier experience that is relevant can be included on the resume, but it does not need to be dated. It can be mentioned in a profile, summary, or an early career section.
If you are job hunting, you are going to be googled. It is an absolute must that you have a LinkedIn profile today that aligns with your resume. Just because LinkedIn will always ask for more information, does not mean you have to fill in earlier and earlier jobs. Use a flattering picture that judiciously shaves off a few years, but don't get extreme here by using a picture that shows you 20 years younger.
We live in a social media world and while millennials may be finding jobs with Twitter, Facebook, and even Instagram, if you are not comfortable doing so, don't. But certainly, educate yourself on these social media platforms and get comfortable talking about them.
Keep yourself technologically savvy — up to date with technology in general, but most importantly the technology and trends in your profession and industry. Stay current, get necessary certifications, or take refreshers if your certifications or any of your training is dated.
Don't forget about current software and applications. Consider enrolling in local classes or take the online classes (LinkedIn Learning), look at the software's demonstrations, take their tutorials, or download free trials to boost your knowledge.
If you demonstrate that you are continuing to learn and getting better every day on your resume, in phone screenings, and during the interview, your extensive experience can become an asset.