Andy Neary, Healthcare Strategist,  author, and speaker gave us a few key insights into the healthcare trap we all face in the corporate world.
Andy is a former minor league baseball pitcher and he was not only insightful and humorous with a  timely message.
Thank you to those who attended.
Thank you, Andy, for your insight and time.
Greg Anton took us off-site to the Denver Energy Center where we were intrigued by the future of Artificial Intelligence.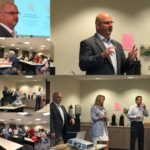 Thank you Greg,  we learned a great deal and it was a great presentation.
Mr. Jed Summerton from Data Mindset LLC spoke at the Roundtable and answer questions revolving around business performance, data control, and processes that streamline the data analytics space.
Jed, we appreciate your experience and knowledge and thank you for giving us data on the subject matter.
Sincerely,
The Aclivity Team
Click here to see all of the previous CFO & Controller's Roundtable Topics and Invites